There are only few things that I love as much as having a cozy brunch. I love sitting together and talking about anything and everything whilst munching on delicious food. This warm casserole is on of my favorite brunch dishes, particularly in the winter because it's just so comforting. The star of this dish is millet. This – in my opinion often underrated – grain is full of nutrients like silicon and iron, which are essential for beautiful skin, hair and nails. All in all it's the perfect grain for our sweet casserole and definitely should be on the table more often in general.
However, you could substitute quinoa for the millet if that's what you have on hand. It's actually what I used for my last casserole, because I've run out of the other grain. Whereas quinoa is not a grain, to be precise. But that's another story…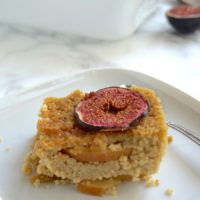 Sweet Millet Casserole with Apples and Figs | Vegan Brunch Recipe
This sweet millet casserole is the perfect brunch dish. It's not only vegan, but also gluten-free, nut free and oil free - so everyone can enjoy it. You could also substitute quinoa for the millet.
Ingredients
1

cup

millet (substitute quinoa)

(200 g)

2

large

apples

1

tsp

coconut oil (for greasing)

1

can

coconut milk, refrigerated

3-4

tbsp

maple syrup

to taste

1/2

tsp

vanilla powder (or extract)

a

dash of

salt

2

fresh

figs (or other seasonal fruit)

3-4

tbsp

coconut sugar
Instructions
Prepare millet according to cooking instructions on the package. (Usually: bring to a boil with double the amount of water for 1-2 minutes. Then let simmer for 15 minutes at the lowest setting.)

Quarter apples and cut quarters into slices. Grease baking dish with coconut oil and line with apples imbricate (for two layers only use half of the apple slices for now).

Preheat oven to 350° F (180° C).

Open coconut cans carefully (without shaking them too much) and spoon out the cream that has accumulated at the top into a bowl. Add maple syrup to the bowl, together with vanilla and salt. Whisk to combine. Then fold in cooked millet.

Spread coconut millet mixture on apples. For two layers: arrange second layer of apples over millet and top with remaining millet mixture.

Bake for 30 minutes.

Cut figs into slices and place on baked casserole. Sprinkle with sugar and pop back into the oven for another 5 minutes.
Recipe Notes
Chill coconut milk cans in the fridge overnight or at least for a few hours before whipping the cream that has collected at the top. 
Best fresh out of the oven, but tastes great cold, too.
If preparing beforehand: Go through instructions, except for step 6. Right before serving finish it off with the last step.
I hope you love this recipe – please let me know in the comment section below! If you make this tart, make sure to take a photo and share it on my Facebook page or on Instagram, using the hashtag #minamadefood. Oh and don't forget to tag me (@thisisminamade) so that I can see your creations!