Oh my! Here comes a food threesome we're all fantasizing about. Those are my kind of food fantasies, at least. I just had to make this one come true. So here it is: my copycat combo of Ben & Jerry's cookie dough AND fudge brownie flavors combined with vanilla nice cream – all in one!
But first things first. Let's start with the ice cream or rather nice cream, shall we? You may read this and be like "Duh. Nice cream is so yesterday!" I hear you. But it's not. Not where I live, that is. Most of the people I know have never heard of it before, even though I basically talk about food all the time. So to those of you, who don't know this amazing ice cream alternative yet, let me explain: It's actually just frozen bananas blended into a smooth soft serve-like consistency. Yep, that's it! You can then add whatever you like to it, tough: vanilla for vanilla ice cream, cacao for chocolate and strawberries for – you've guessed it – strawberry ice cream. And those are just the classics. The possibilities are endless! How about coffee, mango, rosewater or pistachio?
And then there's the chocolate chip cookie dough. I won't waste too many words about it, just head over to the recipe right here. All I need to say is this: You can eat this cookie dough straight out of the bowl without feeling bad afterwards.
And last but not least, there are these delicious wholesome raw fudge brownies. These are just the perfect addition to vanilla (n)ice cream. The brownies are entirely raw, super rich and fudgy and come together in no time. You won't need an oven, not even any other kitchen device, to make this incredibly satisfying treat. I sometimes make these after dinner, when I still want a little something sweet without spending more than a few minutes in the kitchen.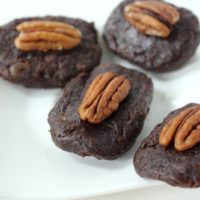 Raw Fudge Brownies
These raw fudge brownies are very quick and easy to make and therefore perfect for those nights when you have that chocolate craving but don't want to spend too much time in the kitchen. I love these with vanilla nice cream.
Ingredients
5

large

dates, pitted

2

tsp

almond butter

2-3

tsp

cacao powder

1/2

tsp

vanilla

a

dash of

salt
Instructions
Mash dates with the back of a fork on a flat surface (e.g. a plate).




Add almond butter and fold in. Then add cacao powder, vanilla and salt and combine well.

With your hands form the dough into 4 brownies or whatever kind of shape you like. I like to just pull them into little pieces and add them to ice cream.
Recipe Notes
Medjool dates would be great in this recipe as they're very juicy and soft. However, you could use any other kind of dates. If they're not soft enough, soak them in some hot water for about 5 minutes. And if they're pretty small, you may want to increase the amount from 5 to 8 or even 10. 
If the batter is too sticky (depending on dates), add a little more cacao.
Essbarer Keksteig
Fudge Brownies
So there you have it! Now you're prepared and ready to blend the frozen bananas and serve with cookie dough and fudge brownie bites. Enjoy!
Vanilla Nice Cream with Cookie Dough and Fudge Brownie Bites
You could have this nice cream for breakfast - it's that healthy! At the same time it's too delicious to be true. Not only is it a vegan copycat of the Ben & Jerry's cookie dough ice cream but also of the fudge brownie flavor. I mean, why choose just one if you can have the best of both worlds?
Ingredients
2

bananas, frozen

1/2

vanilla bean pod, seeds scraped out

2

tbsp

cookie dough

(see notes)

2

tbsp

fudge brownie dough/ pieces
Instructions
Place frozen bananas in a food processor and blend until smooth. Add vanilla and blend one more time.

Top with cookie dough and fudge brownie pieces and enjoy right away or freeze until serving.
Recipe Notes
Cut very ripe bananas (the riper, the sweeter) into chunks and freeze for at least 4 hours. I usually keep some bananas in the freezer. 
For this recipe you'll need the one for edible cookie dough.
Feel free to add cacao powder to the bananas for chocolate ice cream.
I hope you love the recipe – please let me know in the comment section below! Share your remakes on my Facebook page or on Instagram, using the hashtag #minamadefood and be sure to tag me (@thisisminamade) so that I can see your creations!