What you may know as overnight oats (or overnight porridge) today, originates from bircher muesli which was created in Switzerland around 1900 already. No matter the name, it's the perfect make-ahead breakfast to ease the morning rush for when you don't necessarily have the time to prepare a somewhat more elaborate breakfast (like the best healthy two-ingredient pancakes). It takes one minute only to prepare bircher muesli the night before. In the morning you'll need three more minutes (incl. doing the dishes) to finish it off. When you prepare it in a mason jar or any other container moreover, you can just grab and go, then eat it later on your commute or at work/ school. As you see, "no time" is no excuse! Also, it's so good, I could eat it everyday in the summer – just as I would eat this delicious warm oatmeal (porridge) pretty much every day in the winter. Often I'd prepare 2-3 servings for a couple of days to save even more time.
The original bircher muesli is made of milk, lemon, apple and nuts. I preferably use coconut milk, just because it's so creamy and corresponding. When in season, I like to top my muesli with strawberries – the perfect combination, to me that is. Depending on what's available at the moment, you can add pretty much any fruit you like though. You could also add frozen berries, which will thaw in the fridge overnight – overnight oats so to speak.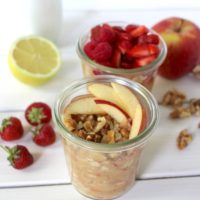 Swiss Bircher Muesli | The Original Overnight Oats Recipe
Bircher Muesli is the perfect make-ahead breakfast to ease the morning rush. Not only is it super delicious but also very nutritious and satisfying.
Ingredients
2

tbsp

rolled oats

2

tbsp

coconut milk (or any other plant milk)

1/2

lemon

1

apple

1

tbsp

nuts

Optional:

apples slices, berries...

for garnishing
Instructions
The night before add oats to a bowl or container, pour over 6 tbsp of water. Mix well, then pop into the fridge overnight.

In the morning, squeeze lemon into a bowl. Grate apple directly into lemon juice and mix well. Combine grated apple and coconut milk with soaked oats.

Top the muesli with (grated) nuts and more fruit to taste.
Recipe Notes
If you want to eat the muesli right after making it, use steel-cut oats instead of rolled oats. Add water and let sit for 20-30 minutes.
I hope you love the recipe – please let me know in the comment section below! Share your remakes on my Facebook page or on Instagram, using the hashtag #minamadefood and be sure to tag me (@thisisminamade) so that I can see your creations!