Today I want to continue my series of BBQ recipes with these delicious Hasselback potatoes. Not only do these look very tasty, they need a minimum of effort and few ingredients to make. These potatoes go really well with grilled vegetables like asparagus, veggie skewers or else these Mediterranean stuffed tomatoes. I love to eat them with a dip like a simple herbed avocado creme or my irresistible cashew sour cream.
Although we're dealing with the most popular vegetable for Germans, they don't have anything to do with this potato recipe for once. It originally is the Swedish way of preparing potatoes while they call them "Hasselbackspotatis".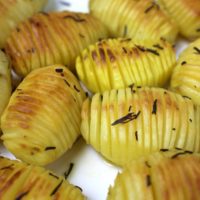 Swedish Hasselback Potatoes | BBQ Recipe
With Hasselback Potatoes you get the best of both worlds: baked potatoes and potato chips or french fries. They look very tasty and only need a minimum of effort and few ingredients to make.
Ingredients
Hasselback Potatoes
6

medium

potatoes, waxy

1-2

cloves

fresh (!) garlic,

thinly sliced (optional)

2

tbsp

margarine (or oil of choice),

melted

2

tbsp

herbs (rosemary, thyme,...),

chopped (optional)

1

tsp

coarse sea salt
For serving
grilled vegetables (asparagus, veggie skewers etc.)

sour cream

(recipe online)

stuffed tomatoes

(recipe online)
Instructions
Preheat the oven to 400 °F (200 °C) or heat grill to high heat.

Place potatoes on a wooden spoon or between chopsticks/ wooden spoons above and beneath.

Make 1/8-1/4 inch thick slices, cutting down till your knife hits the edge of the spoon or the chop sticks.

Place potatoes onto a baking dish or a grill pan and fill about every second slit with one slice of garlic.


Mix together margarine or oil with herbs of choice (I use rosemary) and salt. Lightly brush potatoes with half the mixture.

Bake the potatoes for about 50-60 minutes or until crispy and golden brown, removing them from the oven and brushing them again with the margarine/ oil mixture every 20 minutes.
Recipe Notes
I highly recommend using fresh garlic in this recipe - it makes such a difference!
If you can't get your hands on fresh garlic, you could press regular dried garlic and add it to the margarine/ oil mixture.
I hope you love the recipe – please let me know in the comment section below! Share your remakes on my Facebook page or on Instagram, using the hashtag #minamadefood and be sure to tag me (@thisisminamade) so that I can see your creations!